Overview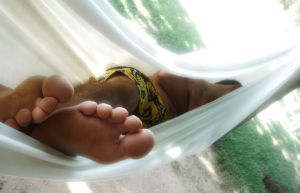 The plantar fascia is a broad fan shaped strap of strong body tissue which stretches from the bottom of the heel bone to the ball of the foot. It helps to hold the foot bones and joints in place. When it is over stressed (over stretched) typical symptoms occur. The heels hurt most of all first thing in the morning or after a period of rest. The heels are also very sore after standing for a long time.
Causes
Some of the many causes of heel pain can include abnormal walking style (gait), such as rolling the feet inwards. Obesity. Ill-fitting shoes. Standing, running or jumping on hard surfaces. Injury to the heel, such as stress fractures. Bursitis (inflammation of a bursa, bursae are small sacs that contain fluid to lubricate moving parts, such as joints and muscles). Neuroma (nerve enlargement). Certain disorders, including diabetes and arthritis.
Symptoms
The heel can be painful in many different ways, depending on the cause. Plantar fasciitis commonly causes intense heel pain along the bottom of the foot during the first few steps after getting out of bed in the morning. This heel pain often goes away once you start to walk around, but it may return in the late afternoon or evening. Although X-ray evidence suggests that about 10% of the general population has heels spurs, many of these people do not have any symptoms. In others, heel spurs cause pain and tenderness on the undersurface of the heel that worsen over several months. In a child, this condition causes pain and tenderness at the lower back portion of the heel. The affected heel is often sore to the touch but not obviously swollen. Bursitis involving the heel causes pain in the middle of the undersurface of the heel that worsens with prolonged standing and pain at the back of the heel that worsens if you bend your foot up or down. Pump bump, this condition causes a painful enlargement at the back of the heel, especially when wearing shoes that press against the back of the heel. Heel bruises, like bruises elsewhere in the body, may cause pain, mild swelling, soreness and a black-and-blue discoloration of the skin. Achilles tendonitis, this condition causes pain at the back of the heel where the Achilles tendon attaches to the heel. The pain typically becomes worse if you exercise or play sports, and it often is followed by soreness, stiffness and mild swelling. A trapped nerve can cause pain, numbness or tingling almost anywhere at the back, inside or undersurface of the heel. In addition, there are often other symptoms, such as swelling or discoloration - if the trapped nerve was caused by a sprain, fracture or other injury.
Diagnosis
The diagnosis of plantar fasciitis is generally made during the history and physical examination. There are several conditions that can cause heel pain, and plantar fasciitis must be distinguished from these conditions. Pain can be referred to the heel and foot from other areas of the body such as the low back, hip, knee, and/or ankle. Special tests to challenge these areas are performed to help confirm the problem is truly coming from the plantar fascia. An X-ray may be ordered to rule out a stress fracture of the heel bone and to see if a bone spur is present that is large enough to cause problems. Other helpful imaging studies include bone scans, MRI, and ultrasound. Ultrasonographic exam may be favored as it is quick, less expensive, and does not expose you to radiation. Laboratory investigation may be necessary in some cases to rule out a systemic illness causing the heel pain, such as rheumatoid arthritis, Reiter's syndrome, or ankylosing spondylitis. These are diseases that affect the entire body but may show up at first as pain in the heel.
Non Surgical Treatment
Rest until there is no more pain. This is the most important element of treatment as continuing to walk or run on the injured foot will not allow the injury to heal. Wear soft trainers with lots of cushioning or pad the heel of shoes with shock absorbing insoles or heel pads. These should be worn in both shoes, even if only one heel is bruised. Wearing a raise in only one shoe causes a leg length difference which can cause other problems. Replace running shoes if they are old. A running shoe is designed to last for around 400 miles of running. After this the mid soles are weakened through use.
Surgical Treatment
At most 95% of heel pain can be treated without surgery. A very low percentage of people really need to have surgery on the heel. It is a biomechanical problem and it?s very imperative that you not only get evaluated, but receive care immediately. Having heel pain is like having a problem with your eyes; as you would get glasses to correct your eyes, you should look into orthotics to correct your foot. Orthotics are sort of like glasses for the feet. They correct and realign the foot to put them into neutral or normal position to really prevent heel pain, and many other foot issues. Whether it be bunions, hammertoes, neuromas, or even ankle instability, a custom orthotic is something worth considering.
heel spur surgery
Prevention
A variety of steps can be taken to avoid heel pain and accompanying afflictions. Wear shoes that fit well-front, back, and sides-and have shock-absorbent soles, rigid shanks, and supportive heel counters. Wear the proper shoes for each activity. Do not wear shoes with excessive wear on heels or soles. Prepare properly before exercising. Warm up and do stretching exercises before and after running. Pace yourself when you participate in athletic activities. Don?t underestimate your body's need for rest and good nutrition. If obese, lose weight.